"THE REVOLUTION WILL BE POETICIZED"
FOR IMMEDIATE RELEASE:
THE NEW WORD ORDER - WORD WARRIORS - NATIONWIDE TOUR 08 BEGINS JUNE 21ST AND RUNS THROUGH AUGUST 6TH
June 5th 2008 - Prysmatic Dreams Entertainment is proud to announce the launch of The New Word order Word Warriors Tour 08. Eight stars of The New Word Order culture embark on a 6 week tour across America. The tour will incorporate over 50 artists and 30 venues nationwide. Included in the primary lineup are 5 highly accomplished Spoken Word Poets, 1 World class singer/songwriter, 1 R&B Hip-Hop duet and 2 Solo R&B Hip-Hop artists.
Representing The ATL:
Representing PD & Militant Muzic Records:
Representing SAK Records:
Representing Dubland Productions:
Representing Militant Muzic Records:
Representing Fantasy Entertainment Records:
The Word Warriors tour begins in Columbia, SC on June 21, 2008 and ends in East Point GA on August 6th.
This fusion of genres brings the best of 3 worlds together in one tour with Spoken Word as it's beacon. With the amount of live audiences, marketing & multi-media coverage planned for The NWO Word Warrior tour, it is expected that 6-8 million will be exposed to this series of events by summer's end.
For details and a full venue location listing visit www.TheNewWordOrder.com
PrysmaticDreams.com
803.237.9260
<![if !vml]>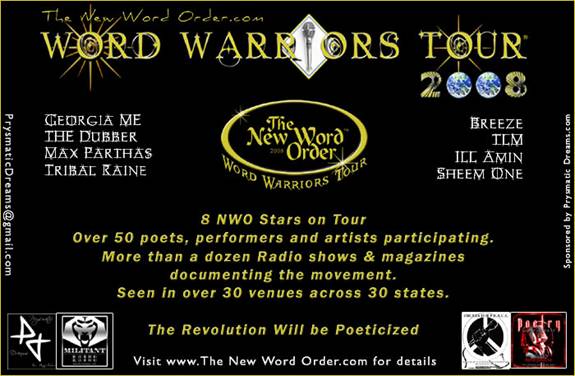 <![endif]>